Ah, so many little adventures I need to tell you all about! Crafting, snooping and wining and dining aplenty going on around here at the moment.
Also... jaunts.  Most of them are local, but happily I am in the process of booking tickets to take me to nearish and faraway but all completely wonderful places.  Home to Ireland for Christmas, naturally. A possible transatlantic trip in the New Year. But most excitingly for now: another trip to my favourite city in Europe - Paris! Yes, I went in August.  I'd already planned to return, and now Le Nouveau Paris are running a competition asking what you'd do on a weekend over there. Me, I'd do all the things that I didn't have time to get to, or which were closed for the holidays in August.   It only seems fair to return and drink chocolat chaud in Les Deux Magots and then spend time wandering around the St-Germain des Pres and Montparnasse.  I missed the Catacombs and so I'll bundle up warm for a trip down there. 
My weekend will including shopping here, because I had nowhere near enough time in the enormous craft section at 'Bay Hash Vay':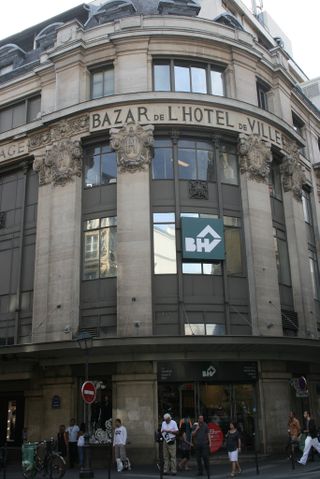 and at Entree Des Fournisseurs, which guttingly was closed last time and I could only peer in the window like a kid denied candy.
I would also spend more time looking for Space Invaders, in honour of Pauline. 
We've wanted to eat here for ages - Refuge Des Fondus which is apparently great fun.
And Pierre Hermé was closed in August - donne moi les macarons!
Really, I can't wait...!