It's lucky that the cats don't cost too much to feed as I completely smashed, decimated, obliterated the budget at I Knit Day 2008.  It's ok, they like yarn (I know this because each day when I come home they have dragged something else out of the WIP basket to play with) so they'll forgive me - besides, I buy the cat food (ten minutes before Tesco closes, practically wearing my pyjamas, because I got so stuck into socks this morning) and so therefore I retain some measure of authority around here.  In that vein, I think I shocked a fellow Raveller yesterday when I said something along the lines of it was worth getting divorced to get a craft room.  Anywaaaaaaaaaaaay...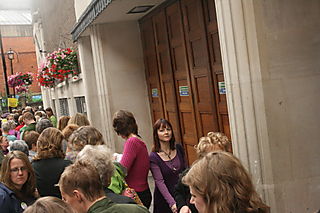 The queue.  At 10:45.  Apparently within an hour it was around the block, and around the block again.
A soft murmur filled the air - the sound of silk being revered, lace being admired, sock yarn being pawed, and Claire spontaneously shrieking 'There he is!' when we saw Jon
EasyKnitter
.  I bought three skeins from him:  lushness (stored on Ravelry)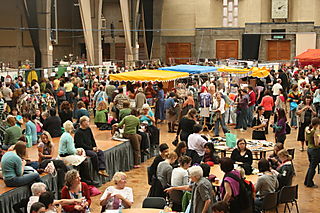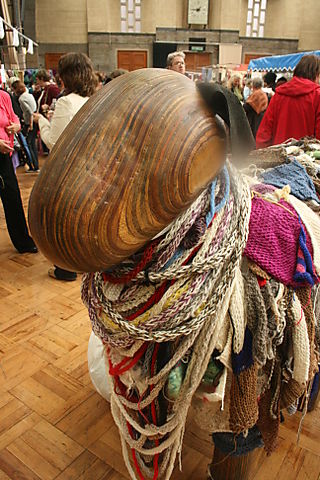 We took time out to make pom poms for peace.  And for a seat, I admit it.  Tiring, this spending a fortune and yarn-pimping lark.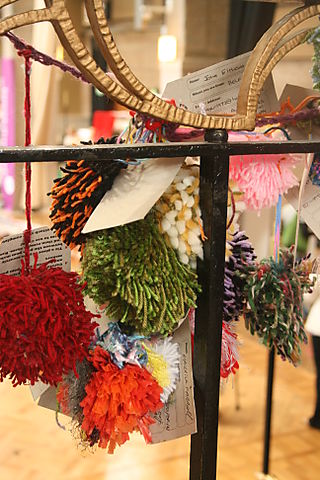 As this particular adventure was a last-minute decision, my only option had been an 'exhibition only' ticket.  I had a good feeling though - so I asked at the front desk whether there had been any cancellations. And what do you know... I also scored a Ravelry badge as one of the girls at dinner the night before said that
Alice Socktopus
had ordered a huge bag and she was giving them away with purchases - so one set of
Pattern Tamers
later...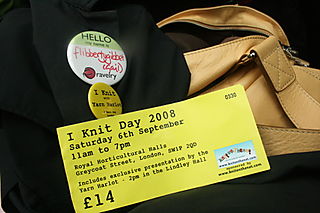 Cassandra knits furiously to get the dishcloth finished.  While everyone else sits in anticipation.  Whilst knitting, naturally.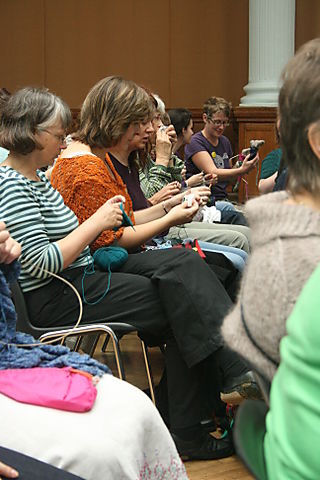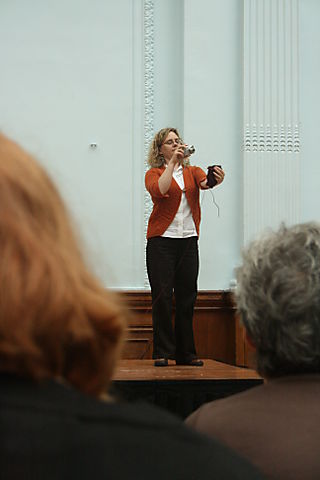 She was priceless.  Really, really funny and with some serious points to make.  Partly about not committing felonies by assaulting people who don't 'get' knitting (I'm paraphrasing and condensing here - paradensing) but also about how in fact we're actually doing something that benefits our brains, enhances creativity, engenders patience, and provides us with a supply of superb gifts when we get the gauge wrong. She had a strong message about how the muggles just don't get it, and that's ok.  Because as we could see and feel, as we sat as a group listening, laughing, knitting and empathising, we know that we're right and they're off fishing and that's just standing in water.  Sod the people who don't understand it. Despite what a Cambridge study may say, we know that there is such a thing as emergency knitting, and yes it does fit in your bag.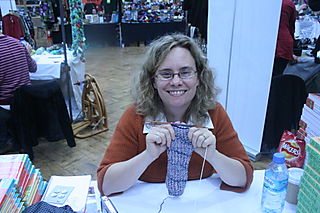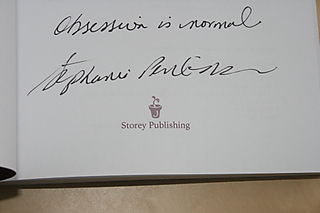 ETA: was listening to Craft Sanity and in
her interview
, Cat Bordhi alludes to the more scientific side of Stephanie's talk and it may be the subject of a future podcast.  I think it's something she normally talks about when she does one of these big events, but for anyone who's not going to make it to one soon, look out for it.