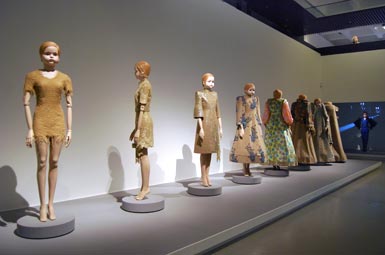 (Photo from Times Online)
I went to the Viktor & Rolf exhibition on Thursday with the lovely Abi and it was quite the eye-opener. See something of it here. I didn't know anything of their clothes beforehand and during the exhibition itself the jury was out (I started off feeling rather like this journalist) - but by the end, having paid close attention to the captions around the exhibits, I was both intrigued and inspired. Particularly by the third coat in the Russian Doll series above. This questionnaire is interesting - partly the first question about the women they design for, because I felt a strong sense of depersonalisation of women and of the models (literally reducing them to mannequins just to show the clothes); the doll heads are supposed to echo the porcelain miniature figurines that the fashion houses of the 30s and 40s used to showcase their collections but the childlike expressions were sinister. it seemed just too ironic that one exhibit was framed by the names of all the supermodels that were 'in' that year. But it's definitely worth seeing, and as Helen told me, it benefits from repeated viewings. I don't doubt it. My recommendation is to view all the collections and the films and then go to see the Doll's House.
There are lots of workshops being held as part of the education programme, and I may even find myself sneaking back. Sadly I will miss Ruth's workshop as that day I'll be off indulging my textile tendencies in San Francisco. Ok, sorry to miss it but won't be sad... she said gleefully as she tripped off across the Atlantic to Renegade Craft! I think there may be a few tickets left for Ruth's session - good luck in snaring one!