A list of things to do yesterday morning en route to Islington meant an early start, before heading to the Make Lounge for their Leather Cinch Belt course.  But it was worth it...
Wow - it was such fun! Merle O'Grady, the tutor is a total sweetie, and so calm while six women wielded rubber mallets and splashed it-will-never-ever-come-off dye with abandon all around her. We all put a slightly personal twist on the belts - some of us used contrasting colours for the main part and the strap, others used rivets instead of buckles, and some of us just made the damn thing a little wonky.  'Don't worry,'  Merle told me comfortingly, 'nobody will see that bit because it's underneath'.  Therapy too!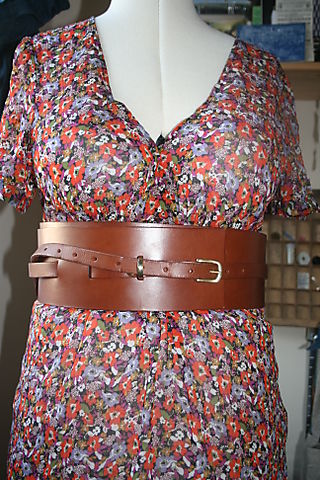 There was a really nice group of people on the course (with another dozen upstairs making tea cup candles) and a lot of chat revolved around other crafts that people dabble in - jewellery making, stone sculpture, decoupage, japanese silk painting, cross stitch, etc. and Merle promised to send on a list of leather suppliers.  We were comparing notes on where to shop and most people were surprised at just how many names were bandied about - it makes me more surprised to think that anyone might not know some of these shops because hey, craft shopping takes up a considerable portion of my time, energy and salary, and I do know that the list I know is just scratching the surface. Most of my friends are crafty.  We are also complete enablers. So here's a start at putting together a London Craft Map - I've been to most of these places myself but would love to hear your suggestions for more, just email them to me.  I'll investigate and add!