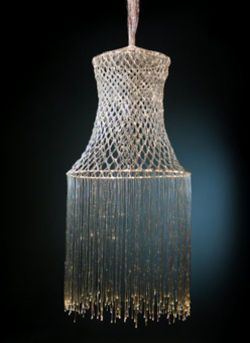 Still in NY, I loved the Radical Lace and Subversive Knitting show at the Museum of Art and Design. My only gripe? No photos allowed (fair enough, though I was secretly hoping it would be the same policy as at Moma where you can take photos freely) but no postcards or catalogue to support the exhibition, which surprised me. What a missed opportunity on the part of the marketing department, I would have sprung for it. Denise and I contributed a few rows (and on her part, a very fine cable) to a collaborative knitting project which allowed us more time for chatting and a break from walking. Perfect combination!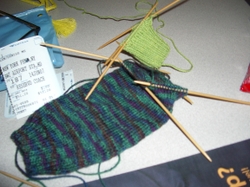 These are the socks we knitted on the way to Baltimore, I stayed with Denise and her lovely husband and son for two nights.
We did the bus tour of Washington and Arlington Cemetery on the Friday, which was really interesting.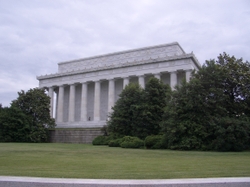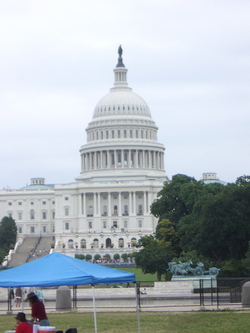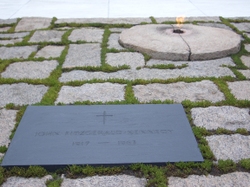 Denise had bought Rory a present at Moma. It's hard to know whether it was more popular with him or with me.
It was great to see Denise (you wonderful woman, you!) and spend a little time chilling, and sitting on a bus for a couple of hours was a wonderful antidote to the tearing around Manhattan the previous day - in the name of stash enlargement and cupcake capture - and of course to see her hubbie again and to meet her wee man Rory. Such a cutie.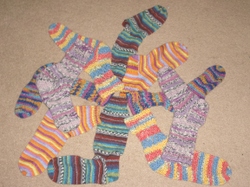 Here's some of Denise's knitted and crocheted socks - how cool are they?
Saturday morning - Denise was off to Australia for a business trip and I jumped on the Vermonter back to New York. Dumped my bags at the bar on 8th, called Pauline and it was off to...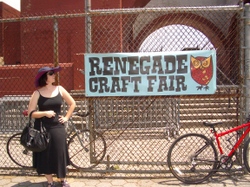 It was just fabulous. We had a rule that we'd walk around all the stalls first and then buy on the second pass around - oh my god that was hard! But it resulted in some choice pieces from this fair, which was actually a juried show.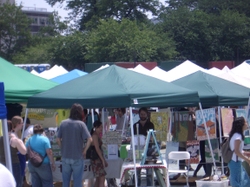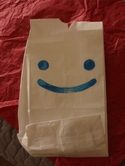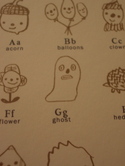 The smiley bag contains goodies from Sarah of The Small Object, and that's a detail of her alternative alphabet. I got number 28, for my birthday.
From The Weekend Store. Now I wish I'd bought the typewriter pendant too. This is to hang in my new flat, assuming that's all still on track. It's in the 'waiting for paperwork' stage.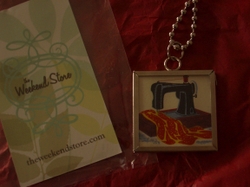 I think this tote was from the Make Workshop.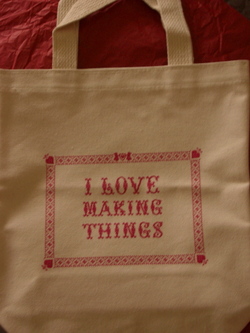 Cards to be framed, also for the new flat, from Katie Muth.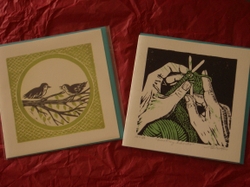 Necklace from Danielle Maveal. I think I tried on everything she had on her stall before settling on this one.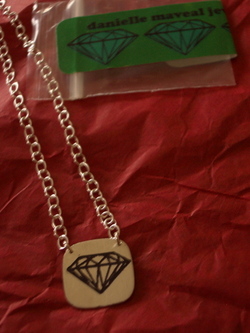 Coasters from Sesame Letterpress, which will be strung on ribbon - again for the flat.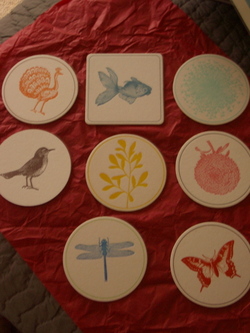 I also came away with things from Fish Cakes, this bag from Fred Flare, something else for the flat from Stencil1 and Lotta Jansdotter (nice lady) and others too. Laden down, in fact.
Back to Manhattan. A couple of destinations including another stop at the City Quilter. I really went mad this time, even I admit that. I haven't even photographed most of it because then I'd have to admit it's now in my house without anywhere to live - the craft storage needs an overhaul.
A stop at Flight 001, a very endearing encounter with a Village native and his two little chihuahuas ('Schweethearts') who escorted us to Mxyplyzyk which was great - and then directed us up the street to Benny's Burritos. A bucket of frozen Margarita later, and we were completely refreshed.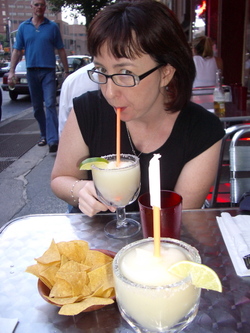 We also managed to get to Sephora and Dean & Deluca and I picked up a couple of their signature spice tins. And one of Jelly Beans, which didn't even survive long enough to get packed to bring home. Ideal for button tins, you know.
I really think that might be about it for NY. I made my way back to the bar that night and M's hubbie came and picked up both up at 11pm. Off to Queens for a couple of days, further relaxing. Home on the Tuesday morning and back into the job hunt. That's what is looming in on me, darkening the horizons but the trip was fantastically rejuvenating. Inspirational, in fact. I would have stayed, I really would.