It's always a case of 'in for a penny, in for a large quantity of money'* with me.  I've signed up for three courses for the autumn (shudder - where did summer go? I feel gypped).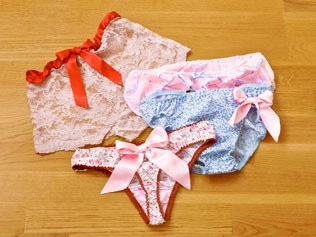 Two casual encounters** with The Make Lounge - morning or evening courses - how to make the 'Naughty Knickers' pictured above; and making a leather cinch belt which solves the issue of trying to find the perfect one in the shops (oh lordy, ICouldMakeThatitis strikes again.  Just this time it's with a qualified teacher and all the materials provided, woo-hoo).  I realise I even have some of the wide lace above, found a couple of years ago in a dead end/end of bolt store at the sketchier end of Broadway, though now secreted in some box somewhere.  Somewhere in the recently tidied craftroom.  Somewhere. 
You know, just don't do it kids.  You tidy your workspace and ok, you get neatly packed boxes of crafty potential, stacked in an orderly fashion that allows you easy access to all those rediscovered treasures. But you also get Stash Guilt.  Guilt akin to Carrie Manolo v's apartment moment at the eye-popping amount of $$$ tied up in twinkle-of-my-eye projects, and the unfulfilled promise contained in glitter, sparkles, textiles and yarn accumulated over weeks, months, years across neighbourhoods and continents, on road-trips, foraging in bricks and mortar shops the old fashioned way, lurking on Etsy and trawling blogs for inspiration. 
Soon you gleefully  - desperately? - grasp any occasion to bust the stash by 0.002% to justify an entire room full of craft supplies.  And you replace the used supplies with four new items, usually completely different ones.  Possibly even for different crafts. But don't you just love the feeling when you can definitively say "Oh, I'm pretty sure I have some fold over elastic/vintage bakelite buttons/a medium purse frame/a packet of origami paper/Swarovski crystals in Palace Green Opal/a letterpress/silk ribbon at home that would be perfect".  I can't be alone in that, surely.  Nor would I change it.  I am the definition of 'all the gear no idea' and it's fabulous.  Yeah, I'm a material girl, or in fact a fabric girl who's spending too much time knitting at the moment. Or lying on the sofa, blogging***.  I'm guilty of too many knitting WIPs right now, more anon.  So tell me, what is the most obscure or prized item in your stash - inspire me to use some of mine?
And a slightly longer relationship with the possibly less glamorous Hackney Community College  is also in the offing - on a well-regarded course in Corset Making.  Sweet friends think that I will be taking custom orders - ah, how lovely for people to have confidence in you!  Mind you, I did see a wonderful red top hat today - perhaps I need to make a matching corset and create an occasion to wear it to - might even be willing to dress all the party-goers!  Could also be stored up for the Wedding Event of the Year 2009...

*ok, these courses aren't so spendy - but that's without factoring in the supplies.  I probably have the silk but not the busks, boning, laces, eyelets... more shopping!  There should be some spare silk from this dress lurking around somewhere...

**  I could have said brief encounter.. but I held myself back, I did
*** Typepad is behaving slightly better.  I'm trying to do my part and blog more often again.  I thought I didn't have much to report lately but this outpouring seems to suggest otherwise.  If you're new, (you're brave) say hello.  Or 'hellp', as I just typed.