The logistical and technological hiccups of the first twenty-four hours got sorted out. I wish I'd been able to explore Mountain View and the surrounding area a bit more (there are some good quilting shops around apparently, though none in San Francisco) but as I won't drive... Next time I travel I will tell the bank in advance so they don't cancel all my cards again. I will also make sure my phone service provider has set up my account correctly. Being stranded - no money or means of communication - was not fun. Let's just say I am not an off-grid girl.
After a couple of days of working rather too hard (up early to work in UK time, staying late in the office to meet up with people in the US, I got to go and play! Yes, it was fabulous. Add San Francisco to the list of Cities I'd Most Love to Live in Following a Huge Lottery Win. I have even chosen the house I'd like: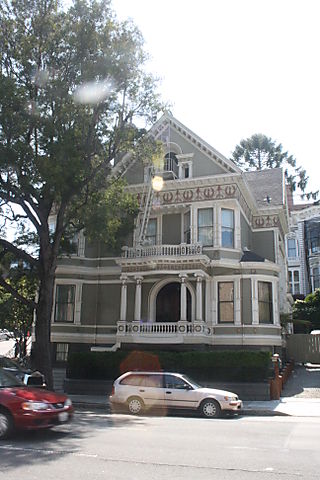 It's on California and Franklin. Lots of pretty houses around there.
On Friday we went to the Latin American Club. These reviews are pinpoint accurate and as funny as the place itself. We also went to Esperpento for tapas ($12 each including tip!) and I got back to my hotel pleasantly hazy. My tip for the Lat Am club is don't drink the cocktails - they are strong as hell.
My hotel room had that essential ingredient: a knitting couch.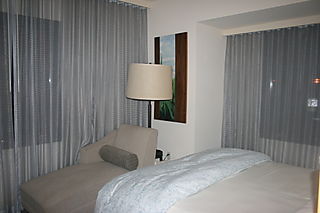 Yarn tourism is a great way to see a city, seeking out those specialist shops. Art Fibers was pretty close to my hotel though I did need to use Googlemaps to find it. Lately I am incredibly directionally challenged.
Roxanne, the owner of this store is super friendly and though ostensibly shopping for the lovely Lucy, I did find a few things for me. Roxanne helped me to find some treasures and also the best match for Lucy's shopping list. En route to the next yarn store I stopped at Rare Device. Ooh, I fell in love with lots of prettiness there. Lisa Congdon, the co-owner was there, really friendly. I wanted to tell her how much I admire her work but the old 'she'll think I'm a stalker' instinct kicked in. I bought cards and some of Lisa's magnets: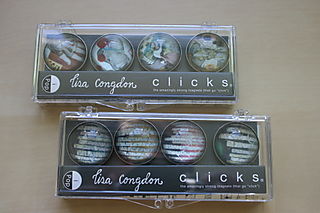 More on the trip later...and the shopping...and RC...