The next stop was Imaginknit.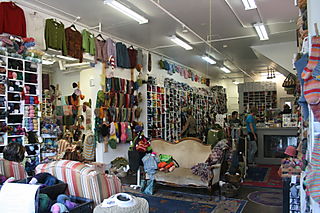 This picture gives you some idea of the scope of the place - there's a second room that's just as filled with yarny goodness. The search was on for Malabrigo Worsted in Azul Profundo, and that's what I came away with, along with some laceweight Malabrigo in Marron Profundo for me. Don't those names just sound magical in Spanish. So much selection here that it was also sort of bewildering. I was sorry on Monday that I didn't make it to Noe Knits - don't think there would have been anything very interesting there but the neighbourhood looked like fun.
After that I decided to get myself in gear and get up to Fort Mason, and the reason for scheduling my work trip for last weekend - Renegade Craft! It took me quite a while to find Fort Mason and there wasn't any signage inside the compound which was annoying. It was much bigger than last year's foray in New York but there wasn't as much that grabbed me - or that I grabbed.
Well Typepad is playing up again (h-a-t-i-n-g it at the moment, and it's slower than hell - wondering why I'm bothering to pay the $ for it) so just losta very long post about it all but I did find some complete treasures.
Beautiful bears from Annie Galvin, aka Wexford Girl of 3 Fish Studios (with her husband who does wicked robots), a fellow Irishwoman and really friendly. I bought two of her handpainted postcards. But I think the bears will be on my Christmas list.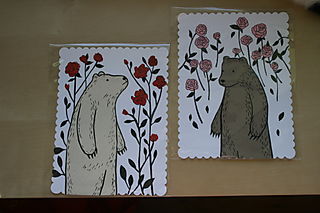 Lots of fabulous earrings from Hannah Chile at Hannahmade, I have worn these about three times already.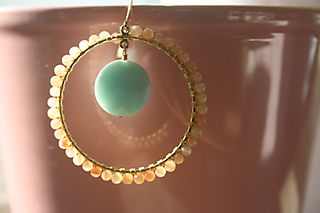 Ok, have lost the rest of this post for the fourth time and it's getting very frustrating. Will leave it here, more to come.