Keeping yourself busy is the best way to keep your mind off things, preferably in good company.  We headed to the Make Lounge yesterday for a wire wrapped jewellery course, with the lovely Merle who also taught the belt class.  After an en-route conversation about what constitutes personal style and how it evolves, and how to avoid style ruts, we were amused that we ended up making items that each of us would have picked off the shelves in a shop with 'Oh that's the perfect present for her'.  Although I wanted to steal Abi's too.  Hopefully she'll blog it soon.
I started with a pendant.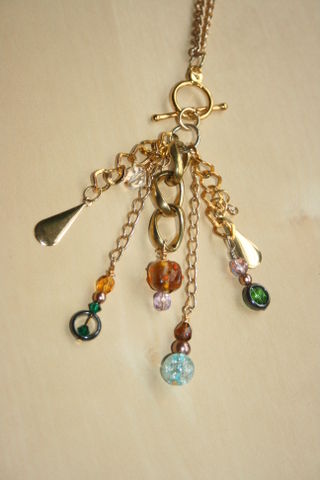 It went through a few incarnations before I was happy with it. That is, until I'd pretty much completely remade it. That's unlike me, I don't usually go back and do over but I'm glad I did.  It's blingy and swingy and pretty and shiny.
Most of the participants apart from myself and Abi made bracelets with multiple beads wired on every link.  Maybe we just were slower than everyone! I went for an uncharacteristically minimalist look.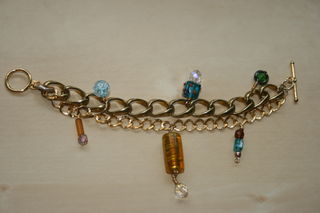 This is on the go again. The first crocheted blanket which I realise to my shame is from April 07??  It has a drunken wobble to it, though I don't think I was drinking when I started it.  It's tapering in so badly it'll end up as a triangle. I'll figure out what to do with it later.  Also working on a couple of quilts - I'm more wary of tackling them when I'm tired as I tend to make mistakes that are more difficult to correct.  Also not as cosy to work on as this is - snuggled under it, on the couch.