Today was a rather nice day, all in all. I just about made it to Knitflicks before the movie started, frantically texting Claire en route, as I was late, plus I didn't actually know where the cinema was either, but luckily it's just past the tube (and also past Electric Avenue "wooooaaah, we gonna walk down to -"). Anna was asking me what Knitflicks is about - basically once a month, the Ritzy in Brixton (just about) puts on a movie specifically for knitters and crafters where the lights are not quite dimmed. So it's dark enough for the cinematic experience, but bright enough to see your work. Well just about, at one point a friend, Adrienne, sitting behind me, did curse loudly and have to remove herself to fix a mistake outside in the light. Another pal told me that her local cinema does something similar for mums and babies, with the lights keep up so little kids aren't too scared. Or something.
I have to admit, I was concentrating more on the work so I didn't watch the movie so much and it was such a shame because it was a stunning looking film, though even if I had been paying complete attention I don't reckon I've had understood it. But it was worth it just for the odd glimpse of Cillian Murphy's beautiful blue eyes above the yarn. So I think Jen and I might have to go and watch it again as a card movie. Afterwards, following a sandwich and more crafting at chatting at the Ritzy, I headed over westwards to meet up with Jen and Loba. Fabric was purchased. Liberty tana lawn at 50% off. I swear I'm making a dress tomorrow.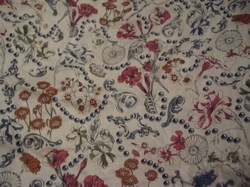 That's if I can put the crochet down for long enough. For those of you who kindly asked after it, here's what I'm doing - draped over Shrimp. It's because the first time I saw a crocheted blanket I really liked, it was on Green Kitchen back in September and later there was Bella Dia - and coincidentally Michelle had been inspired by a post of Jane's with a post about someone else's striped blanket... then Jane then was largely responsible for the ripple craze which I think came next. Very complicated. I liked the simplicity of this, plus it reminded me of a very seventies carpet in my parents' house. I need to get this one out of my system first. When choosing the fabrics today I also went back to the first thing I'd spotted again and again, though eventually I did go for something else (it was also uncanny how all the fabrics I picked out were the more expensive ones. I've always had good taste.) Loba is thinking of making her first quilt and it was interesting to see how my brain seems to work when it comes to choosing colours to go together. There'll be more musings on sewing versus knitting in my little brain later.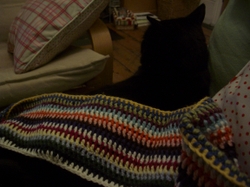 It has slightly scared me that Jane said she used 925g of yarn. Oh no, wait a minute, I've just added it up and it turns out that I've bought 850g for this. Ah ha. That really scares me. But I bought most of it at 15% off at the Liberty cardholder's evening, some with my measly £5 voucher. I'm using Rowan Pure Wool DK but for my next one (please, don't laugh - I've decided to make an afghan for a wedding present for a friend. It was nearly going to be in Kidsilk Haze - until I tried crocheting with it, and thought better of it when memories of my past battles with this delightful fluffy devil's spawn came flooding back) I ordered a pile of cotton angora from ebay instead. I got 29 balls for £60 inc postage which isn't bad. I'll try another couple of auctions tomorrow to see if I can add to that pile, and then that's going to be a ripple blanket, a proper one this time.
And I'll define what's "proper".