On Wednesday I also managed to get to the City Quilter (round 1). Most of these are for quilting (a pile of orders are due soon) and specifically for quilt backing, for quilts for little boys.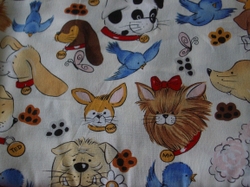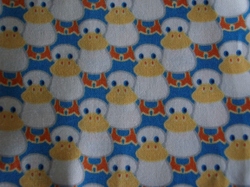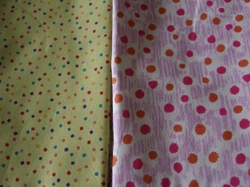 I also went to Tinsel Trading, and unfortunately didn't make a couple of purchases I wanted as I thought I'd be back the next day but didn't make it, and also visited their wonderful ribbon shop,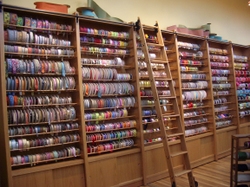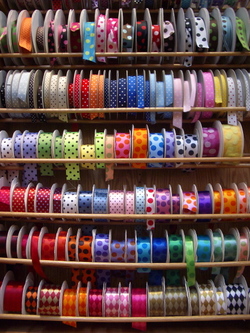 'The Store Across The Street'. It's seriously beautiful and worth checking out. However I would have to say that I thought it was rather overpriced, given that I found many of their ribbons (obviously not the antique ones which are worth going for) in Daytona, for literally half the price. I know, I checked. Though the silk flowers were magnificent. Of course I found a couple I couldn't pass up, and they were so prettily wrapped too: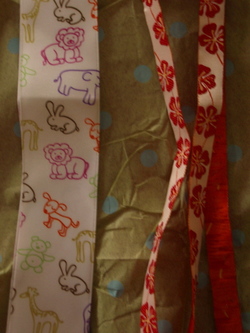 One of the best things about this trip was that there was a constant stream of fun people around - some natives and some transplants. Pauline was working in NY that week so of course we had to hook up which was brilliant....we decided at one point that telepathy works better in NY as one of us would say something and the other would literally stop in her tracks, exclaiming "I was just thinking that!". My favourite example being - and this will show you what a cosmopolitanish melting pot London is - when I confessed that I had been musing to myself earlier about how there were loads of Americans about and Pauline said me-too-me-too...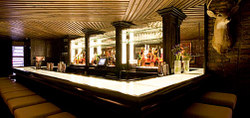 This is where we went for drinks and dinner that evening - Pauline will have loads of photographic evidence to show later on. (She's great, she was the official photographer for the trip). It was hysterical - she told me that there was something unusual about the entrance to PDT, so when we arrived in what looked like a normal fast food place, I thought 'Ok...' then I was kind of mystified when she ducked off into a phone box on the left - and lo and behold we emerged in here! God, it was such fun. Apparently the entry criteria is that there's space inside (that will explain how I got in) not who you are/what you're wearing - and to reiterate that, from our perch on the bar we could see the little CCTV monitor that shows the poor unfortunates who are in the fake phone box entrance hammering on the false wall trying to get in.
We drank cocktails - slightly pretentious ones, pretty much each one has some mysterious ingredient that nobody's ever heard of , like Lustau manzanilla, anyone? - and ate hot dogs. Yum.
Then we popped across the road for chocolate, caramel and banana crepes for dessert. Yes, we know how to have a good time. With extra sugar, where possible. Thanks to the poster in the creperie, we are also fully aware of how to do the Heimlich Manoeuvre, should it be necessary. It was funny to be waving goodbye to each other in Grand Central later, as if we were at the tube at home, with cries of "See you on Saturday" - more on that later!
[Can I just say that I never thought I'd be defending the London underground but yet again I have new-found admiration for an underground network that goes around the compass points, not just horizontally and vertically; and for stations that also let you go in both directions?? Mind you, the subway is cheap, cheap, cheap. Particularly with magical British pounds.]
It was lateish to bed and really early to rise the next day, as I went off to meet the lovely Denise (who doesn't blog - yet) from her 8am train, having first checked out of my hotel and left my luggage at Penn Station, and we set off to really kill the credit cards. On the way, I spotted one of the Star Wars mail boxes that Susan blogged about ages ago (Anna, check out Susan's blog too as she has a link to the Threads list of where to go in NY for sewers!)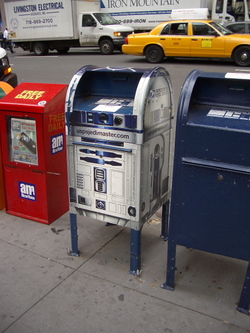 After breakfast, it was off to School Products (I'll tell you why it's called that a bit later). Here's Denise browsing in this huge place. Can you spot her? She was choosing her Koigu.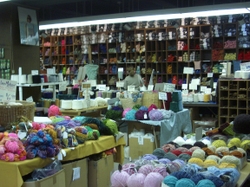 I bought this lilac merino and the variegated cashmere. Yum.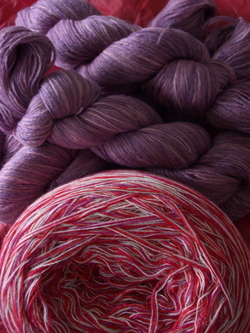 I think we got to Purl next. Purl, the mecca for us UK knitters. I have to admit, it's a rather lovely experience. Particularly for someone like me, who's a total yarn flibbertygibbet and doesn't really know what she's buying - apart from some custom colour Lorna's Laces.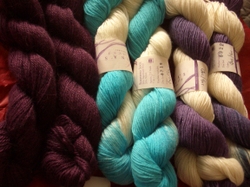 And some Blue Sky Alpaca Silk (left) for the infamous Clap. I am following Helen's lead and not using a variegated yarn, rather something soft and luxurious. Denise bought some more sock yarn (what was it?) and I picked up some amazing stuff for Lucy from my knitting group but unfortunately forgot to take a picture.
Some tips:
Purl Soho doesn't hold exactly the same stock as the internet - that stuff is in California. They can get any of it in but it takes a couple of days.
The Lorna's Laces custom colours don't have the names like 'Berry Stripe' on the actual labels, just on the net (no, I couldn't figure that out) so make sure you are buying the same ones if they are for someone else (don't worry, the staff there are super-helpful)
They don't take American Express. I had brought an Amex debit card - like traveller's cheques but in card format - and went to the local corner store to get cash instead.
And then we had some lunch to fortify ourselves at the little cafe next door. "Once Upon a Tart".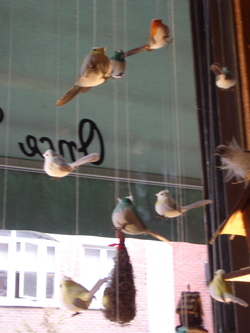 Before making for the No I destination:
Oh, I really loved Purl Patchworks. It kind of reaffirmed that while knitting is my favourite social craft, I adore sewing. I got overexcited, natch, while Denise patiently sat down and started on her sock.
The very first thing I requested from Joelle (yes, the famous owner of the store was there herself) was the Denyse Schmidt 'Katie Jump Rope' bundle and you know it was worth schlepping it all around town.
There's a part of the selection, it was such fun. Joelle is very patient and so friendly. I'm sure a lot of you will have seen the article about the shop and her beautiful apartment in Blueprint, with the quilt pattern but I didn't want to appear stalkerish and mention it.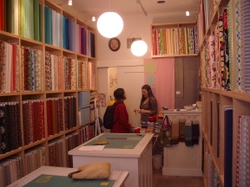 As I was repacking the bags post-fabric purchasing so that it would all fit a little better, she spotted the lilac merino and said 'Oh, that's nice - that's not from Purl!' and I explained that it was from School Products. Then the conversation went like this:
Joelle: I wonder why it's called that.
Woman: Oh, I just designed her book, it's because it used to be a school supplies store.
Us: Really?
Me: Oh, when is your new book coming out?
Joelle: Not until September, it's called Last Minute Patchwork Gifts (I think that's what she said)
Me: I can't wait - I was gutted that Amy Karol's book wasn't coming out until Tuesday and I go back on Monday.
Woman: I designed that one too!
It's a teensy-weensy tiny world. Or maybe the telepathy/synchronicity thing works with total strangers too.
I must say that I am a big fan of the City Quilter and it worked well for me to go to both stores first and then back to the City Quilter as it has such a big selection. But if I only had time to go to one location, or wanted to go somewhere to hang out, it would definitely be Purl Soho/Patchwork because they have plenty of lovely things, and the atmosphere is fab.
After all that fabric shopping we needed some sustenance (yes, that's right, all we did was shop for craft materials and eat sugar - and lo, 'twas good) and we went to Magnolia bakery, the home of my favourite cupcakes. (recipe here) Damn, they were delicious.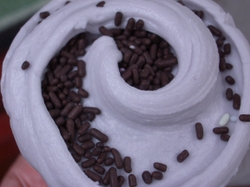 We stood outside and devoured them, and then realised that through the window you could see them, making the magic and just look at those jars of sprinkles.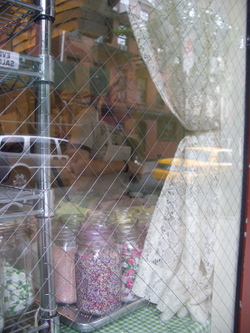 Ok, unbelievably there's still yet more to tell you, (and more fabric to show you) but I'm done for the day again. Laters, ladies.