Over the past couple of days, many beeyoutiful things have been delivered to me. I've already told you about some of them. Dolly the dressform arrived. I've called her Dolly because she sort of is one, plus bizarrely I've taken to saying hello to her everytime I see her, she was quickly constructed and is now taking pride of place in the bedroom. (Best light in the whole house) I love a company that thinks to actually supply the phillips screwdriver that's required for assembly in the box with her. That's the sort of service I'm looking for. Now I just need to figure out what I'm going to use to pad her out to my dimensions - hips and shoulders are ok but the middle - well it just doesn't expand enough! It's a very peculiar thing to do actually, as you turn her little dials to imitate your own shape and then look, with your head tilted slight to one side and say 'Really??....bugger.'
Yesterday it was a delicious envelope of booty from the lovely Helene - postcards from La Droguerie which is on the list of must-visit places for the next time I go back to Paris.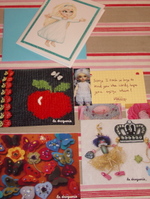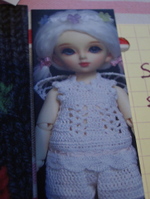 Helene's blog has a great tutorial for a little crocheted basket - dear god, this April crochet workshop simply can't come quickly enough! My lovely grandmother sent me some money for my birthday and it's being spend on some more Rowan DK for the blanket that I will be crocheting. The only dilemma now, as Helen pointed out, is blanket vs granny squares. That's a conundrum for another day. I've fancied making a pinboard like the one Ali made for ages - and these postcards need a home so I better get on to it!

Helene also mentioned the intrinsic confusion that comes from trying to interpret US measurements - just exactly what is a cup of butter? I did find some sort of conversion, and used my lovely Nigella measuring cups and spoons to make these: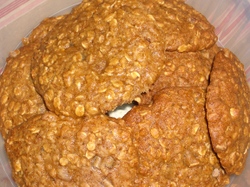 which are a monster version of AfricanKelli's Chocolate Banana Oat Cookies for Saturday. Not to self - if recipe says it makes three dozen, you probably shouldn't be dropping them out with a tablespoon. I also tried to get more oats but couldn't (was wondering about using my posh muesli but then thought maybe not - btw their fruity porridge is amazing. This is coming from a woman who doesn't like porridge) so thought I'd have to make do with what I had, about 2 cups. And also missed the bit in the recipe about needing to add in a couple of extra cups of oats in addition to the main list of ingredients/or premix. I added the closest thing I had, which was... chopped apricots. They came out pretty well! I may have to ask my neighbour to hold on to them until tomorrow.
In other baking news, I made the old reliable: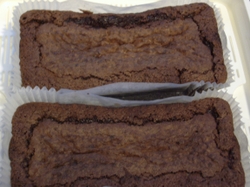 Nigella's Dense Damp Chocolate Loaf Cake. The recipe is below - though paraphrased for quick typing, and minus her wonderful prose - and can I just say that the quantities below are supposed to fill a 2lb loaf tin but in fact, as you can see, they pretty much fill two. So what I usually do is make one giant 'mushroom cloud' cake where it spills over the edge, and put a baking sheet underneath as she suggests. So you get a cake plus a free muffin which you eat - cook's privilege. If you use two tins, then just serve your guests thicker slabs of the not-so-tall cake. It's definitely better after a couple of days, like gingerbread. Or warm each slice in the microwave and serve with a ball of vanilla ice cream.
Today brought more good things from the postman - from Jennifer! Funky emerald rick rack for my apron, and some delightful ribbons, in 'an ode to spring'. I know exactly what I'm going to do with them all, too! Plus a beautiful handmade card and even with the perfect stamps - thank you so much. I've been so utterly spoiled by all you bloggy friends this week - constantly touched by all of you.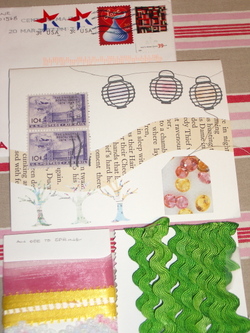 Dense Damp Chocolate Loaf Cake
225g soft unsalted butter
375g dark musovado sugar
2 large eggs, beaten
1 teaspoon vanilla extract
100g best dark chocolate, melted
200g plain flour
1 teaspoon bicarbonate of soda
250ml boiling water
[23 x 13 x 7 cm loaf tin] - a 2lb tin basically

Preheat oven to 190c/gas mark 5
Put a baking sheet underneath in case of drips (always happens with this cake) and line the tin. John Lewis does parchment liners.
1. Cream the butter and sugar
2. Add eggs and vanilla, beating in well.
3. Fold in the melted, slightly cooled chocolate, blend but don't overbeat.
4. Add the bicarb to the flour, then add the flour mix spoon by spoon alternately with the boiling water. The batter will be really runny.
5. Pour into the lined tin, bake for 30 mins.
6. Turn the oven down to 170c/gas mark 3 and cook for about another 15 mins. The cake will still be a bit squidgy inside so an inserted cake-tester or skewer won't come out clean.
7. Put loaf tin on a wire rack and let it cool completely before turning out.

It will sink in the middle, and it improves over a couple of days