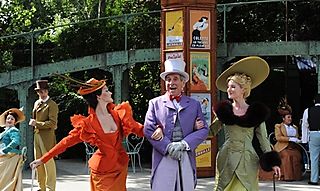 Last night I was invited to a corporate hospitality do at the Open Air Theatre, to see a production of Gigi.  It was suitably atmospheric, with a backdrop of trees bathed in pastel light in the darkness, and fairylights strung through the bushes (unlike the sunshine of the press photos above).  The occasional drunk who could be heard shouting in Regent's Park didn't detract...much.  From our position up in the gods it was difficult to see the performers' faces clearly, but gradually the identity of the actor  with the distinctive voice playing the uncle revealed itself - Topol, who was wonderful, as were Millicent Martin and Linda Thorson.  I found myself suffering from severe milinery envy for most of the ensemble's fabulous hats.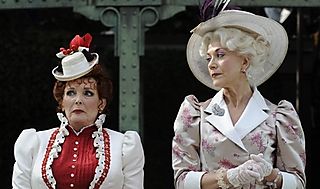 We all agreed that the pair playing Gigi and Gaston were somewhat irritating and everyone in the audience had a rueful chuckle at 'Thank Heaven For Little Girls'.  Can't imagine something similar coming up in the next Disney flick. 
Tonight I joined a group of Ravellers, mostly from out of town for a dinner organised by Claire, ahead of tomorrow's I Knit Day.  Great tapas, great chat.  A relatively early night to get ready for tomorrow...lots to do.  Sewing machine shop (just returning a DVD. Definitely, not buying anything...No.) Off to Victoria and then more culture tomorrow night.  And puppets...