Although I did take Art all the way through secondary school, like everyone else I had my specialisations.  Calligraphy.  Pottery .  Textiles.  Lino-cutting.  Ok, anything except life-drawing. Naturally that was a compulsive discipline. For our finals, the model happened to be one of the guys from our clique. As soon as he walked into the circle I hissed orders at him and insisted he sat with his back to us for the session – because "drawing faces is hard".
Despite this – well, hell, it's a long time since I was in school – I said yes to Dr Sketchy's at the Royal Vauxhall Tavern. It's the brainchild of New Yorker Molly Crabapple but I understand that sessions run all over the world now following the same format: burlesque + drawing. 

Dr Sketchy's incomparable MC, Dusty Limits, introduced the first artiste, Miss Fancy Chance and I immediately had flashbacks to White Mischief last Halloween, where she did a completely unconnected Grim Reaper routine that didn't so much bring the house down as furrow brows and send people scurrying for the door. She's definitely got more potential as a burlesque artist though after her first routine I may never view he old Star Trek in the same way (imagine the lovechild of Sulu and Uhuru, as she bills herself, with pasties).
After her performance, she was joined on stage by Dusty and the audience participation part of the evening commenced.  After warm-up exercises such as drawing without looking down at the page, quick-fire two minute sketches, and drawing with your left hand, we progressed to longer poses and themes. ("Five minutes, and your theme is... Nobel Peace Prize!") with prizes  from the fabulous Lost At Sea awarded for the best rendition.  (I'd like one of their tattoo wooden necklace please, to temporarily prevent me from getting a real one.*)  After a break, the second model was Mr Meredith who I'd also seen before at Wilton's Music Hall as one of the highlights in a rather mixed revue.  You don't get that many male burlesque artists and he's probably best that I've seen. He's all about the corsets and hold-ups, rather than crap magic and rabbit pouches, ewww. The winning sketch for  the 'Mr Meredith's dark side' theme was astoundingly good, with imaginative demonic shadows.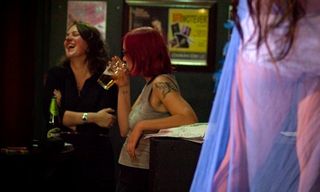 (From Dr Sketchy's Facebook page)
It's a funny, tipsy, silly evening at Dr. Sketchy's and I heartily recommend it.  Participants range from people who really are talented, to those who come for the beer and then seem to find themselves clutching pencils with hands hovering expectantly over the page. What's incredibly heartening about it is that the organisers' genuine passion for helping everyone from the aspiring Picassos to the utterly cack-handed amongst us to draw, enjoy drawing and make a little progress even over the course of an evening shines through.  Next time I'll bring more paper.

* Kidding, Ma, I'm kidding.  For now, anyway.