Making at the Making Space.
What'll we do this weekend, we pondered.  Shopping? Bit of X-Factor?  Mooch to the pub for lunch?  Oh come, hardly.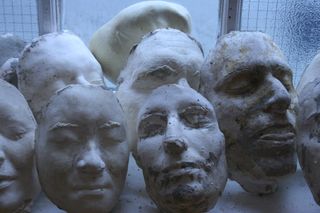 No, let's paint dental alginate on our faces in an east London workshop and then not think about losing all of our fingers. Ok just to be completely clear, Simon Aronson who runs The Making Space would never let anything like that happen – this is a professional workshop and it's run as such.  We went there to make custom masks - you know, for Halloween, for parties, for trips to Tesco's on rainy Tuesday mornings. 
After mixing up alginate power 1:1 with water, you paint it over your model's face, on top of Vaselined eyelashes and brows. I jumped up and said I'd go first as I'd suddenly and rather inconveniently remembered that frankly, I hate stuff like this.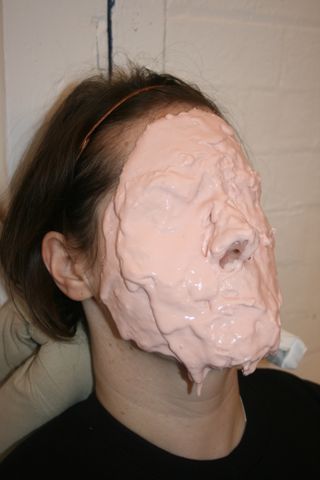 Probably the least comfortable part for me when my eyes were covered and the world goes very dark indeed, before wetted strips of plaster-impregnated bandage are laid over the top. Just a little nostril space left open and me looking like I'm melting, mellllllllting.  Apart from that, the worst part is not being able to contribute to the discussions around you when you're trapped behind the layers (it was lucky that Emma made her Status Quo revelation before Lucy was actually plastered up, because it made us laugh so much that I think Lucy might have ended up with a rather wobbly mask) and it's a fairly quick process.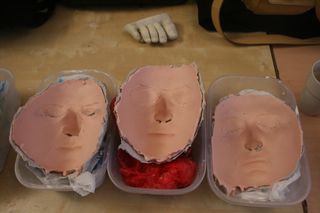 The alginate provides a copy of all the lumps, bumps and contours of your face, the plaster strips form a shell for it to sit in. You nestle this mould in a container and then fill it with plaster of Paris to make an exact replica of your face.  It sets relatively quickly though it does continue to generate heat for some time afterwards.  Once it's dry or almost dry, you peel off the mould and you're left looking at a disturbingly pasty, chalky replica of yourself.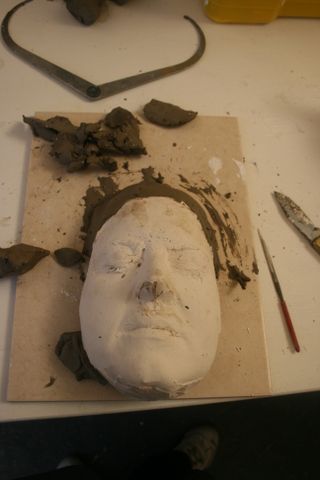 Ready shredded paper is the basis of the papier mache that you use to fashion your mask.   I initially thought that I'd do something quite flat and then build up design using milliput afterwards.  Then I couldn't stop thinking about the masks in V for Vendetta and suddenly my mask bore the cheekbones I've always wanted. Lucy and Emma made fabulous nature-inspired creations – I think Emma's reminds me of Uma Thurman as Poison Ivy!  Day two of the workshop is solely taken up by cutting, sanding, filling and then surface decorating, then varnishing at the end. I wanted a cracked patina to mine so Simon suggested painting it red first (yay – my favourite colour; and also the traditional base for gold) and then rubbing it lightly with a gold wax. Finally I used a matte varnish all over, and blocked out everything but the cheekbones which were glossed to a candy-apple shine.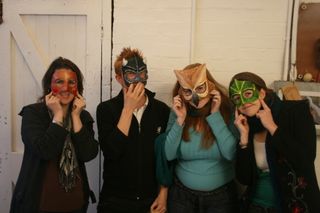 Because it's fitted precisely to your face, the mask sits close and is comfortable to wear plus presumably will stay on better. Simon is amazingly patient and obviously gets a kick out of helping people to realise whatever twisted  or soaring vision is tumbling out of their heads. There are lots of other courses on offer.  I didn't think I had much interest in making chainmail initially – then I thought 'silver jump rings'...