Caroline mooted the idea of the Blitz party a couple of weekends ago, and in the spirit of saying yes to everything, I jumped at the chance because it's one of those things we always miss and then grumble about.  Fortune smiled on me and I even managed to win a pair of tickets for us, hah!

After a girly supper for us and another friend, Caroline put her coiffeuse skills to work and created a cute 40s do for me (cue use of a scissored donut and approximately four dozen hair clips for my slippery fine hair) and I'd managed to find an appropriate 40s style dress lurking in the wardrobe, you know, as you do.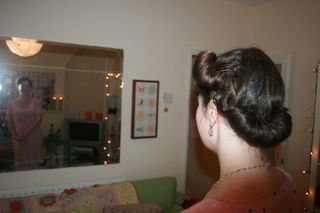 By the time we reached Shoreditch High Street, there were girls sporting Victory Roll hair and men in uniform popping up everywhere. The Blitz Party takes place in railway arches which are kitted out in bomb-shelter fashion, complete with sandbagged bar.  Probably so there's something padded for you to fall against when you finally slump there after beating the queue to the bar, then pass out at the prices. 'Refreshments' included cheese and pickle sandwiches, assembled before your eyes.  'Didn't manage to catch the names of the bands – one studiously styled in WWII outfits, with two very glamorous singers; and then a slightly left choice, a crazy gypsy kletzmer ensemble who kept the crowds entertained.
One of the genius things about the Blitz Party is that dressing-up is rather more than encouraged, it's practically mandatory. We saw about three people who were in civvies (non-period) who all looked decidedly uncomfortable.  I'm not surprised, the rest of us looked fabulous, darling.  Even more impressive is the fact that all the guys really live up to the occasion – and it's not as if they can grab the first tea dress they find and throw that on like the girls do, ahem, and then put the effort into hair and make-up – but it turns out that eBay and military surplus websites do a cracking trade in authentic or completely passable uniforms with prices starting around the imminently reasonable £20 mark.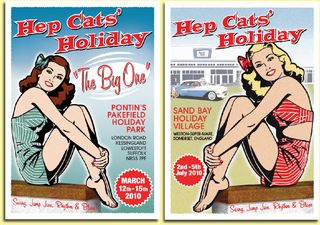 The crowd is mainly 20- and 30-somethings, and therefore decidedly short on actual dancers (people busting sway-step-sway, step-sway-step moves don't count here) apart from the odd couple making valiant efforts in the thick of the crowds.  I grabbed a flyer for lessons because I really really do want to learn, but it didn't make it home with us. We found some new friends though, and they're already researching swing dance holidays for next year, telling us that there will be cute boys there for us (and them) to dance with.  We may well join them. Abi, are you coming?