You might remember that I had grand hopes for doing some fundraising running this year.  These haven't totally faded but I've had some technical issues - with my feet. I'm going to take myself to the doc this week to get it sorted. 

So lets start off with baby steps, which will still be plenty of effort - the I Knit Ravelry Group are putting a team together for the Race for Life on the 6th of May and the sponsorship page is here . 'Race' is a fairly elastic description of the event as I personally expect to be sauntering with perhaps a short burst of plodding towards the finish line if all goes well. Whilst knitting. This will be interesting.  Ooh, what should I knit? I know what I'll be knitting with - see below... and with whom, hopefully if she gets let out to play early enough...
I think it's going to be really good fun and it will be great to do something with knitters to support knitterly friends who've been affected by cancer. If you fancy joining in, coming along on the day, joining us in the pub afterwards (that's part of the plan, right??) or adding some cash to the total, then please do!
As a little incentive to encourage you to mosey on over to the fundraising page, I'm doing a little pink giveaway.  **Leave a comment to enter**.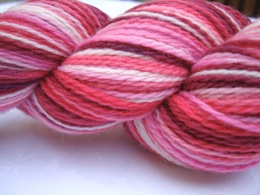 The main attraction is a skein of super squooshy lovely sock yarn - produced by the very talented Jon at EasyKnits and he has very generously thrown in a £10 gift voucher for the winner too! In theory I'll be knitting socks on the course using the skein I bought for myself. 
I'll do the draw after the race on the 6th of May. Should my sewing machine recover soon (mutter mutter growl) there will also be a non-knitterly something. In pink, natch.