I started a sock knitalong (KAL) on Ravelry, if you want to join in.  Come on down.  If you're not already a Rav member, just sign up for an invitation and it will be through in a couple of days.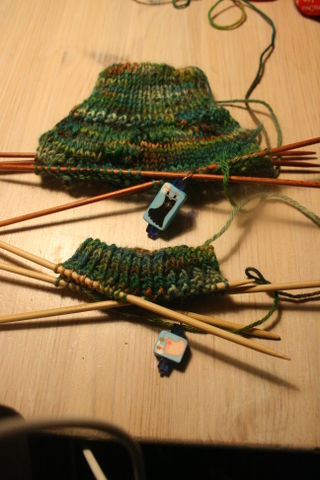 Here's the Bellatrix socks, being helped along by the lovely stitch markers which were a gift from the even more lovely Denise who's probably too busy to join a KAL at the moment unless it's for very little pink socks, mwah. 
As usual with my wayof knitting something, I've screwed up the pattern on the first one, so I've started on the second one; then I'll go back and fix the first one.  Probably.  Must learn to count. 
To house these, I've got one of Sue Moon's fabulous sock bags.  It appears she still has a couple on sale - they are so beautifully made so go in and snap one up if you can. I made the mistake of buying three that I really liked as presents - and then didn't want to give any of them away.  It's got lots of useful pockets and interiors 'straps' so your store needles.  So clever.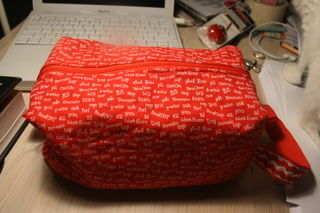 I've also got a Cotton and Clouds bag that I love. 
I haven't got much time for knitting really, finishing up some freelance work that's doing my head in as these things always do, especially after work.  Someone decided I could make time though...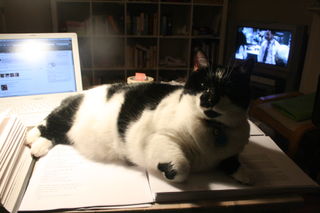 My feline paperweight.