There's only one thing that's better than hearing the thdumpth of a package falling through the letterbox and landing squarely on the doormat.
That's when you come home to find a red-and-white notice from the postman to say 'There's something that wouldn't fit in your letterbox tantalisingly awaiting you at the magickal portal that is your local Sorting Office'.
It wouldn't fit in your letterbox because it's so chockfull of beautiful stuff!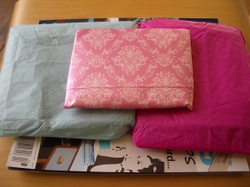 This is what first confronted me. And then, a bit like the old joke of:
~ How did you find the steak, sir?
~ I lifted a chip and there it was.
Look! There's more! Sandwiched in the middle of it all.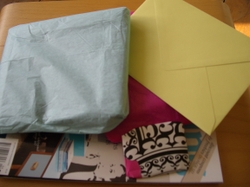 The card and 'very special extra package in the groovy paper'...
So to set the story, the lovely Jade emailed me a while ago - we've been having a delightful conversation by cross-commenting on each other's blogs and emailing for a while now - hers is My Art is My Outlet which is a repository of beautiful crafts, newsy observations and original artworks from this very talented lady. We'd worked out that we have birthdays very close to each other, and she told me that she wanted to send me an 'appreciation gift' which would also fortuitiously arrive as a birthday gift. My normal Irish inclination was - well, I'm reminded of a seminar I went to while I was in college in Dublin, as a pre-cursor to taking off to America for the summer on a J1 visa (which entitles you to work anywhere in the US). The counsellor ran through the normal Irish procedure for accepting or refusing an offer:
American host: Would you like to come to a barbeque at our house/ trip to the mountains/the Grand Canyon this weekend?
Typical Irish Person: Ah sure no.
At this point the American host wonders what they said that was so heinous and wanders away. You see, in Ireland the exchange would go something like this:
Person 1: Would you like to come to the pub/ the pub/the Aran Islands this weekend?
Typical Irish Person: Ah sure no.
Person 1: Ah no, go on, sure, come on-
Typical Irish Person: Ah no, sure you're grand now, no.
Person 1 No seriously, come on
Typical Irish Person: Ok then, great, I'd love to!
So in contrast to my habitual 'ah no' I said 'oh yes please!' to Jade (and also to the lovely Anna and Jennifer on the rick rack front) and how lucky am I?
I was so overwhelmed by all the beautiful things Jade put together:
A TON of fabric, which, according to the note, "is vintage 1980s originally from Mum's stash - entirely "mined' by me'
I can picture Jade at the cotton face, toiling away, to bring these diamonds to the surface.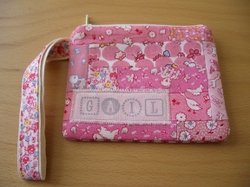 This was in the pink package. Seriously, will you just *look * *at* *this*?! My camera - a bad craftswoman always blames her tools rather than her lack of photographic ability - can't capture its full complexity, but it's a beautiful log cabin zippered purse in my most favourite colour, pink, and it's so meticulously crafted.
Here's a shot of the ticking-type fabric on the back,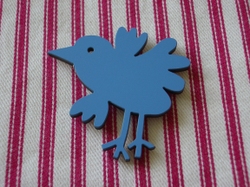 also showing the most fabulous birdie woodcut magnet, the 'very special extra package in the groovy paper'.- this is something that will be secreted away for my new house (me and XH have agreed the settlement - I need to get a job and get out of here but moving out will be moving on - though that doesn't mean it's not scary*) and having beautiful things like this to display will be the icing on the cake for my new house/life/future. Me and the cats, obviously.
And there was a magazine too! With advice and hints on interiors which will soon be needed too, methinks. Jade's card said that she hoped she'd find me in good spirits - and as a result of this I was. Knitting tonight with lovely folk also raised the spirits, as will the joint birthday party this weekend. Thank you Jennifer for 'making' me arrange it.

Jade, thank you so, so much. I am so touched by your generosity. And yes, it made me cry a little. Good crying though!

* Between 'Miss Match' and that silly cow Gabi on Desperate Housewives on about being thirty-one and divorced - I'm terminally depressed.