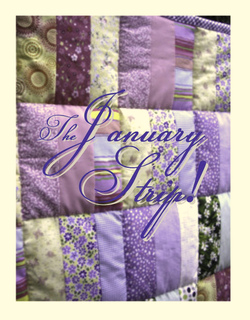 So here's the plan ladies (not being sexist, the boys are obviously welcome...)
Sign-ups for the inagural fabric swap are open now*, and to join in you need to email me, boutique {at] flibbertygibbet <dot> [co] <dot> {uk} or use the 'Email me' button above, with the following details:
- your (real!) name
- your postal address
- your email address
- your blog if you have one and would like your swap partners to be able to check it out to see what you're into, and I'll put a list of the participants up here too
Sign-ups will close on the 5th of January, assuming that all the spots haven't already been filled before that - I'm keeping it to a small number of participants for the first time
For this swap, you will send THREE

co-ordinating

STRIPS

of

100% cotton fabric

to 2 SWAP PARTNERS. The strips should be 4 inches/ 10 centimetres wide, and the length of the fabric from selvedge to selvedge which will be approximately 42-44 inches, or 107-112 centimetres long.
You'll receive your swap partners' postal addresses and contact details by the 7th January and you should send your packages off by the 19th January. If you haven't received both your packages by January 31st, let me know!
The idea is that with the six strips of fabric you'll have at the end will have enough to make approx 10 blocks for a quilt, of the sort that I make anyway, which you could mix with a neutral fabric, or make a log cabin cushion cover or perhaps a patchwork purse, there's lots of inspiration here, here, here and here, here and here. Do please suggest more in the comments.
I'll be setting up a Flickr group to show pics too, so you can show what you sent, what you got, what you made... hurrah!
FAQs:
*I'll add your name in if you already added a comment to the last post about the swap, but you will need to send me your postal address, and make sure I have the correct email address that you wish to use. Oh, and your real name, in some cases!
- This is an international swap, so your partners could be from anywhere - please don't sign up if you are not able to post internationally.
- Do feel free to copy the picture above - if it works - and put it on your blog if you're taking part.
- I specified 100% cotton as that's what most quilting fabrics are, and you should be able to find cotton relatively easily even at this time of year. There are lots of online resources, plus you can convince yourself the only reason you're popping to the Liberty sale is for your swap partner... you might also have some fabrics in your stash that would work.
- Have a think about the size of the repeat of the pattern - will it only work as a 10cm strip, or could it be cut in half, for example. BTW If you're able to rotary cut the fabrics so they are even, all the better. Well, as long as they're not too narrow, any method will be fine!
- Ideally fabrics should be prewashed, but let your partner know whether they are or not
- If you're going to be late sending your packages, please let me and your swap partner know asap.
- Though I doubt it will be necessary, if you'd consider being an angel, i.e. sending out one extra package if someone is let down, please let me know - Iooking for one on each continent apart from Europe which I'll take care of :-)
- And finally I'm sure I'll be editing this a million times with things I've forgotten...